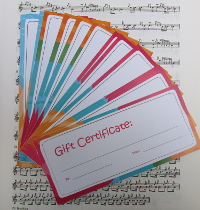 If you'd like to give someone a bagpipe experience, a gift voucher for bagpipe lessons may be the ideal solution.
Once the voucher has been received, the recipient can contact me (calum@callingthetune.co.uk) directly to arrange a tuition slot. Tuition is provided on the same terms and conditions as regular students.
The recipient will need a practice chanter - a "standard plastic" type from a recognised maker (the National Piping Centre is a good place to find one, but if in doubt I can advise). No other materials are required as I supply all learning materials.
Vouchers are available for either one or three months tuition, and cost £115 and £345 respectively.
Terms
Vouchers are not refundable
Vouchers do not expire
Vouchers may not be used by the purchaser
Only one voucher may be used per person